Medical Molding – A Look Inside the Current State of the Industry
Published date: 21 May 2019
Back to Article Listing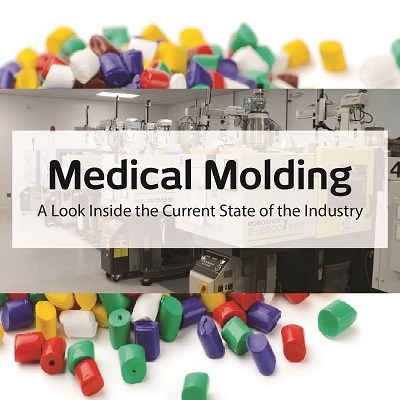 Injectech's place in the medical molding industry is one among many. However, while our role may not be different from a company of similar capacity, the way we approach and understand the importance of our responsibilities is.
When OEM's are choosing a medical molder, they are looking for trust and flexibility. They need a molder who is as concerned with standards, testing, and validation, as they are. They aim to form a partnership with one that understands their needs and requirements. OEM's also look for molders that can beyond the manufacturing step and assist further with assemblies. Injectech is sought out due to our ability to meet an OEM's need for flexibility and adaptability.
When medical customers are specifying molded parts to a manufacturer, they often overlook the manufacturers' responsibility as a component supplier to keep customers up to date with standards and product changes. Product change notifications, notice of any issues if they arise, machine updates, or material information are all important to medical customers. We strive to keep open lines of communication with our customers at all times.
Currently, the medical molding market is evolving and here at Injectech, we see more molding coming back to the United States from overseas. Additionally, we see molding for medical manufacturing being outsourced more from OEM's to molding shops. In the next few years we will see the progression of the ISO 80369 standards and their dimensional and functional changes to components. The ISO 80369 standards that have been published so far are, Enteral Feeding, Blood Pressure, Neuraxial and Intravascular. The industry is also requiring more rigorous testing and traceability that molders must comply with. As a result, medical molding will continue to move forward into strengthening requirements and responsibilities of molders.
Factors that may come into consideration in regards to medical moldings' progression are competition and material advances. When it comes to competition, we see molding as being set apart from other manufacturing technologies like CNC hybrid machining and additive manufacturing and not in competition with it. With molding there is the capability for multiple solutions, prototyping and assembly. Other manufacturing technologies, from our experience, are more of a first step or entry level into creating components and when quantities grow, they move towards higher capacity molding to meet their needs. Our company offers smaller minimum requirements when moving from the prototype to production phase which is unique in comparison to other molding companies.
With a firm grasp on the medical molding industry and the responsibilities we need to take on as a medical molder, Injectech will provide a superior relationship that leads to a successful process and quality fittings.
**This article entry was created from our contribution to the Medical Molding Roundtable published in Medical Product Outsourcing. Read the full article here - https://www.mpo-mag.com/issues/2019-06-01/view_features/cast-in-a-different-mold-a-medical-molding-roundtable/