Rigid Barb vs High-Flow Barb
Published date: 16 Aug 2023
Back to Article Listing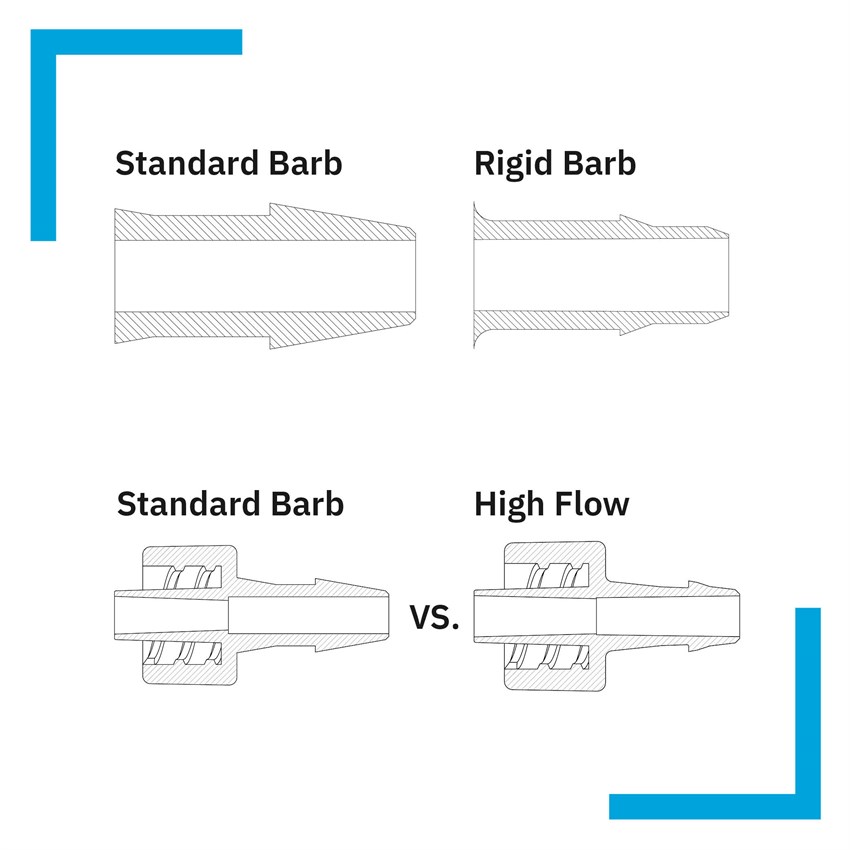 In the medical industry, fittings play a crucial role in ensuring a secure and leak-free connection between various fluid-handling components.
For many applications, it is imperative that the correct components are selected to prevent what could be a severe misconnection. With barbed fittings, there can often be a huge array of variations to choose from, and not too easy to differentiate from one another. Two of the most popular choices – rigid and high-flow – offer different unique advantages and disadvantages.
Rigid Barbs:
Rigid barbs are known for their robust construction and angular tapered shape. This lower profile on the barb outside diameter is best suited for harder tubing such as polypropylene and polyethylene.



A rigid barb expands tubing by 25% compared to our standard barb which is around 50%, allowing for more rigid tubing to be secured more easily.
It is very common to see the rigid barb used on smaller tubing, such as a 1/8" barb with 3/32" tube. As a result, the connection is more secure and less susceptible to leakage.
If your application requires higher shore hardness tubing, or lower pressure operation, rigid barbs might be the correct barb style for you.

High Flow Barbs:
High Flow barbs offer the ease of assembly with a focus on providing optimum connection for higher flow, higher pressure applications. The outer diameter features a lower profile barb, falling between the standard and rigid variations, to allow for tubing to secure easily into place. Most importantly, the high flow barbs' increased inside diameter allows for maximum flow/vacuum through the fitting.



With these factors in mind, it is important to ensure that you are working with the best products that suit you and your application. We are proud to offer free samples to our customers, and our engineering, sales and production teams are available to answer any questions you may have when choosing the correct fitting for your product.
For more information on our different products, or what Injectech can do for you, please do not hesitate to get in touch with us on sales@injectech.us