Making The Right Connection: Considering Barb Styles When Choosing a Plastic Fitting
Published date: 20 Apr 2020
Back to Article Listing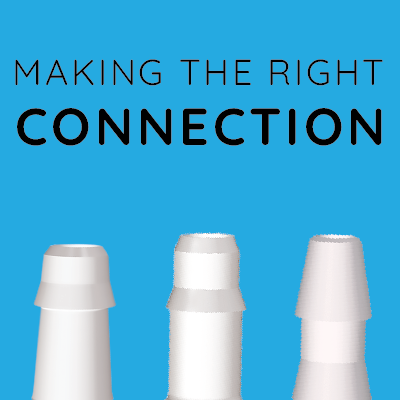 When you do a simple search online or if you find yourself inside a hospital, it is easy to see that medical devices used for various types of patient care such as heart and lung support, respiratory therapy, or orthopedic surgery require plastic components in a wide range of configurations. Each plastic fitting is chosen to serve a specific purpose to ensure the success of the procedure and functionality of the medical device. The role of a component supplier, like us, is to provide trust, quality, variety and knowledge with our product line to match the OEM's needs. This variety applies to categories of plastic fittings such as, luers, tube to tube connectors and check valves but it also applies to the specific features offered for each product. A feature that requires consideration when examining potential for success is barb style. Barbs are used on many fittings and can be offered in various options. Injectech offers standard, high flow and rigid barb styles. So how do you know which style is right for your medical device?
When considering a barbed connector, it is highly recommended that users test the barb in their specific applications as tube material, durometer and tubing tolerances can affect the barb fit. Our standard barb design typically expands flexible tubing by 50% over its normal size. Common tubes used with this barb are flexible PVC, silicone, polyurethane, TPE and TPR. Another barb style that we offer is a rigid barb. This rigid barb has a lower profile on the barb outside diameter allowing for easier insertion into rigid tubes such as polypropylene and polyethylene. The rigid barb typically expands the tube by 25%. It is also common to see the rigid barb used on the tubing the next size down for example, 1/8" barb used for 3/32" tubing. This allows for greater security with the connection while still allowing the barb to be inserted, typically with a tube stretcher. A third barb choice to select from our offering is a high flow barb which falls between the expansion ratio of the standard and rigid barb profiles. The increased inside diameter of this barb allows for maximum flow/vacuum through the fitting. With each of these separate characteristics in mind, it can be understood how important it is to match your project needs with the best barb style for your device.
Once you've determined the barb style that will be the most effective for your project or assembly you should also determine what material is necessary for your fitting to be manufactured in. When weighing material options, there are several key inputs that must be taken into consideration. These include regulatory requirements, type of fluid/gas flowing through the tubing circuit, sterilization method, tubing material and chemical resistance. The Injectech team has years of experience with different material options and are ready to help find the correct materials for your specific application.
Plastic fittings have various barb styles as listed above, but there is also another selection that is available. Bond-in fittings can be chosen depending on your project requirements. There are very distinct differences between a bond-in and barbed connector. Barbed connectors incorporate a barb/barb stem feature that bites into the inside of the tube. The barb stem is designed to push the tubing back into the outside diameter of the barb thereby strengthening the connection. At Injectech we use a single barb design which does not have a parting line on the sealing surface. This allows for a more secure connection. Barbed connectors can be used with a bonding agent and/or zip tie. Although not necessary, these items allow for a stronger connection. Multiple barb connectors are also an option when the end user needs to attach and remove the tubing. Bond-in connectors utilize a port design that is specific to either the ID or OD of the tube. A bonding agent is required to make a connection. Due to tooling design, these types of connectors generally cost less.
With an understanding of the available barb styles, as well as the differences in connection types, how do you determine which is correct choice for your project? The best way to determine the connector for your application is to request free samples for testing. At Injectech, we allow you to order free samples on our website through our simple online forms. Additionally, we have sample kits displaying a wide range of connector variations, allowing you to try multiple options. Our engineering, sales and production teams are available to answer any questions you may have when choosing the correct fitting for your project. With our expertise and experience, we will lead you in the right direction in regard to barb style, material, or any other details to ensure optimal functionality for your assembly.