Kynar Update
Published date: 22 Jun 2022
Back to Article Listing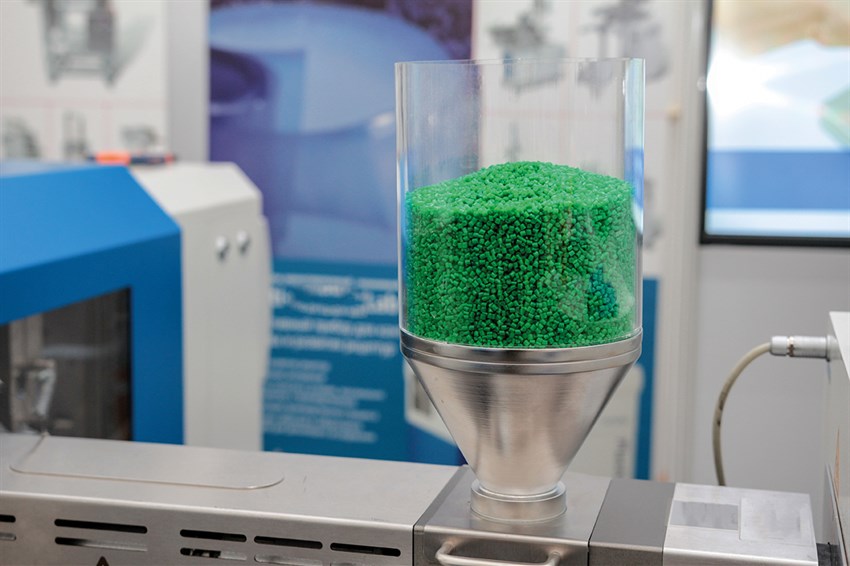 As Injectech navigates the unprecedented shortage of materials, we strive to maintain transparency with our customers and maintain lead times as best as we can.
We are currently experiencing a sudden shortage of Kynar 740, sourced from Arkema. We have been notified by Arkema that their Kynar demand is greater than their supply and that the Kynar we have on hand is our allocation for the rest of 2022. They have not given us a set date for when their production facilities will be able to meet demand, but it is appearing that it will be in 2023.
As a result, we will not be taking new orders for parts in Kynar until we are able to obtain material. If you have an existing order, please contact orders@injectech.us to find out more information.
About Kynar
Kynar, a polyvinylidene fluoride (PVDF) resin, is a high-strength, high-purity resin that is resistant to solvents, acids, based and deionized water. It exhibits a high tolerance for heat and is animal derivative free. Due to its chemical resistance and adaptability to multiple sterilization techniques, it is highly suited to many bioprocess, pharmaceutical and medical applications. Due to its flexibility, corrosion and heat resistance, processability, and mechanical strength, Kynar is a highly desirable material for many applications. It can be easily melted by injection molding, making it a great choice for tubes and fittings.
Alternatives to Kynar
Although there is not a perfect replacement for Kynar, there may be an alternative material available for your application. Our closest materials would be polypropylene and nylon.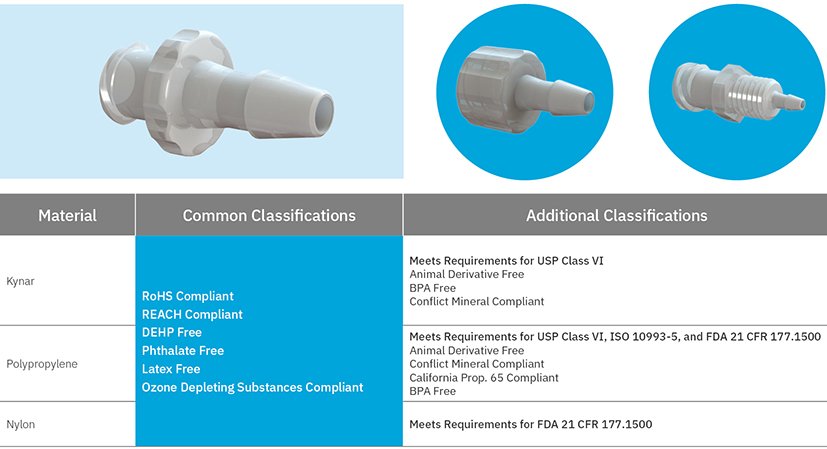 Polypropylene
Injectech uses an animal derivative free grade of polypropylene, which is formulated for use in medical, biomedical and bioprocess applications. It is resistant to a broad spectrum of solvents and chemicals. With regards to sterilization, it is highly compatible with EtO (Ethylene Oxide) sterilization and gamma sterilization in the range of 35-40 kGy (higher doses may produce a slight color shift). It may be autoclaved for up to 20 minutes at 121°C, however, caution must be exercised when loading the autoclave to avoid any stresses that could deform the connector.
Nylon
Nylon is a widely used medical polymer due to its strength/impact resistance, relatively low cost and temperature resistance range (-50°C – 135°C). Nylon is resistant to a wide range of chemicals but is vulnerable to attack by strong acids and oxidizers. It is compatible with EtO sterilization and can withstand gamma sterilization (to 50 kGy). It does tend to discolor with increased doses of gamma radiation. Nylon may also be autoclaved; however, it is a hygroscopic material and may swell when exposed to moist environments.
Finding the right material
Injectech can help you find the right material for your application and can provide free samples. Contact us today at sales@injectech.us.